I wrote a while ago about the
Consensus wine
from
Keswick Vineyards
that Chris and I were able to blend last December.
Well, interestingly enough, the story does not end there.
Turns out, the vineyard entered the Consensus into the recent
Finger Lakes International Wine Competition
a couple weeks ago.
The wine won a Gold Medal!
I mean, I thought it was good--but I was pretty sure I thought it was good because I had a hand in coming up with the blend.
Not so--it really is good!
We received the following congratulatory note in an email from the vineyard the other day:
Congratulations Robert and Christina!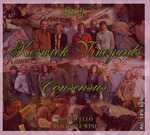 We really do have the best wine club members out there! Congratulations to all of our members! Your winning Consensus blend from last December was entered into The Finger Lakes International Wine Competition and took home a gold. We couldn't be more proud of it or of you!
If you live in a state where you are lucky enough to be able to have wine shipped to you--I can recommend this wine. Also--the Cabernet Franc, which I tasted at the winery a couple weekends ago is also fabulous--and it won a Gold Medal in the 2011 Virginia Governor's Cup.
The experience of going to the vineyard and creating the wine back in December and watching it as it went through blending, aging, bottling, release and now has become a Gold Medal winner is one that I probably will never be able to repeat--but for me, it truly has brought me to closer to understanding some of the complexities involved in wine making and has been an experience to remember.
Sadly, there were only a limited number of cases produces and I am sure the wine will soon be nothing more than a fond memory--but if I can resist the temptation to drink it all, and save some for a couple of years--this wine will only get better with a little bit of age.